PRICING + MEAL INFO
Meals are $4-12 per item. Click on product details to see price, ingredients, and nutritional information.
FireRoad
Curated
NOT SURE WHERE TO START? SLIM DOWN, POWER UP, KICKSTART NEW HABITS OR SAMPLE BEST SELLERS
Harvest Grain Bowls
Hearty and delicious meals inspired by our chef's take on global favorites. $12/bowl.
Protein-packed chickpea pasta
Pasta classics bursting with flavor and nutrients but without the gluten or the guilt. $12/bowl.
PERFORMANCE SOUPS + STEWS
Globally inspired soups to nourish, recharge and reboot. $10/pouch ($5/serving).
power breakfast Overnight Oats
Kick-start your day with our mouthwatering blends of fruits, oats, chia, flax and protein. Just add mylk. $7/item.
Carbs

33g

fat

16g

protein

15g
calories

320

Net Carbs

24g
Our blueberry walnut overnight oats are studded with walnuts—notable for their stores of healthful Omega-3 fatty acids—antioxidant-rich blueberries, and a pinch of vanilla and unrefined coconut sugar for flavor. We've also added a light pea protein, which gives this breakfast a protein boost and branched chain amino acids that you've come to count on from our meals. Simply add your favorite plant milk before bed, give the oats a stir, and wake up to optimal nutrition.
Blueberry Walnut
Details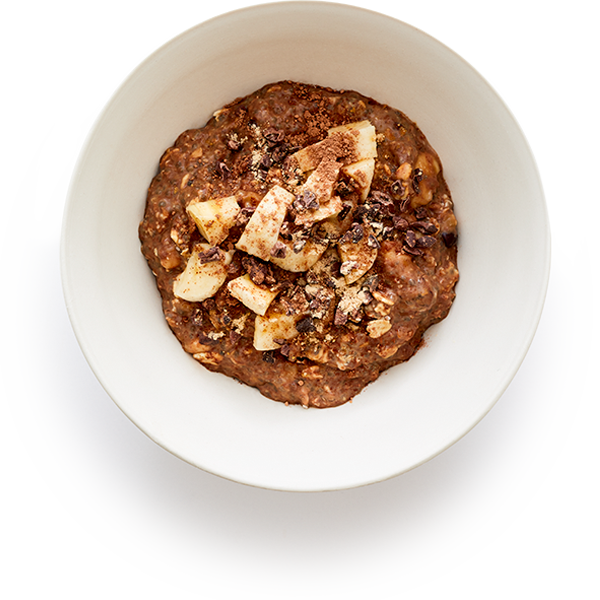 Carbs

41g

fat

10g

protein

15g
calories

300

Net Carbs

30g
Decadent breakfast lovers, this one's for you. Cacao powder, crunchy cacao nibs, and sweet chunks of banana meet in a nutritious, fiber-packed, electrolyte-rich batch of overnight oats. We love the combination of banana and chocolate, and we're invested in giving you a chocolate-studded breakfast option that's a lot more high-performing than your average muffin or pastry. Enter 15 grams of plant-sourced protein, a slew of antioxidants, a trace of naturally occurring caffeine to get you moving, and electrolytes to keep you hydrated and your muscles fluid throughout the course of your busy day.
Cacao Banana
Details