Frequently Asked Questions
ORDERING
When do I need to order by?
You will need to place an order by 11:59 pm EST on the Sunday prior to the week before you want your deliveries to begin. If you meet this deadline, your order should ship Monday or Tuesday, and you will receive it a day or two later depending on distance. Once your order ships, you will receive tracking information. After your initial order, refer to the Delivery Schedule page for future delivery dates.
How do I make changes to my meals or plan? How do I cancel?
When you first order, you will receive an email inviting you to create a customer portal. Check spam this has not occured. Email us if you have any issue.
Once the portal is live, you will be able to modify your orders (add/delete items), change your next charge/delivery date, change your subscription frequency (e.g., change from 14-days to 7-days). You can also cancel your plan and "reactivate" a cancelled plan if you ever want to take a break.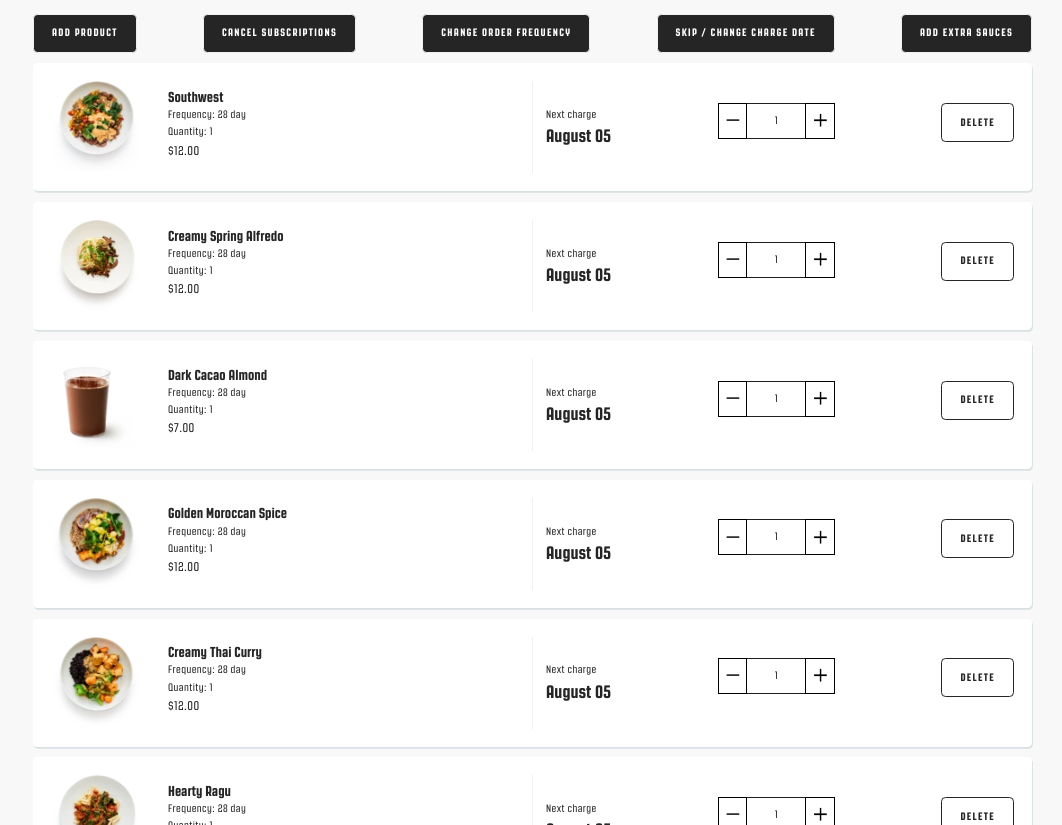 What happens if I have a question about my order?
Please feel free to reach out to us with any questions via email at reach@myfireroad.com. Please be sure to include your name and email address associated with your subscription.
How do I pick what meals I want?
You can always pick the meals you want delivered to you. After you have placed your first order, just visit your portal and you can add or subtract anything you like from your next box. We just ask that you order a minimum of 8 items. Any changes made will update your subscription and future deliveries. Please be sure to make changes before our Wednesday midnight ET cut-off for them to apply to the next delivery.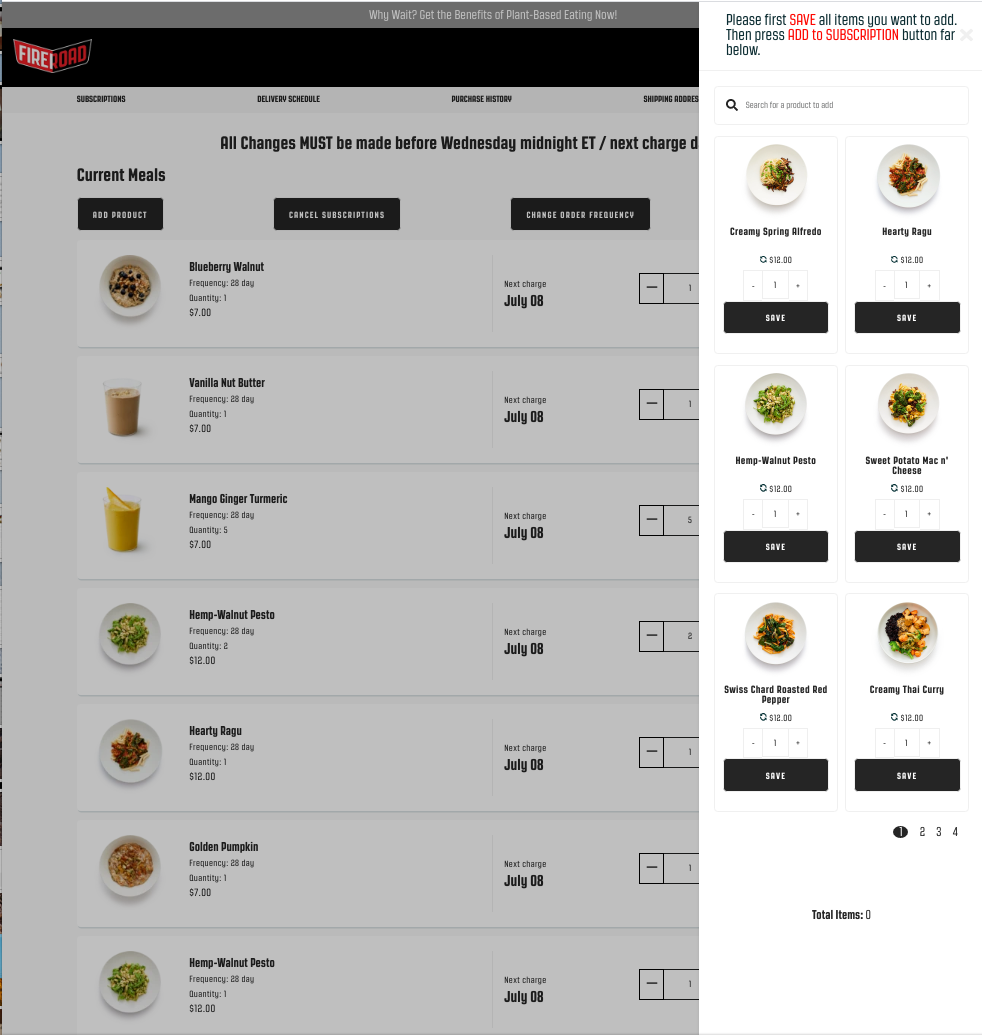 Need help?
If you are having any trouble ordering or with any of your meals, please send us an email at reach@myfireroad.com. If something went wrong, or you are just not feeling it, please let us know using this customer support email. We'll do what we can to make it right. We want you to be happy with your FireRoad experience. Love it or your money back!
Shipping costs
FireRoad is located in New York City. We presently operate out of a single kitchen where we make meals in small batches by hand. All meals are shipped from this location, too. For deliveries that we can ship using Fed Ex ground – 22 states in the Eastern US – we offer free shipping for orders over $175. For other locations, we need to ship products by air, which makes shipping dramatically more expensive – to some locations it can be well in excess of $50 per box. For this reason, we are not able to offer free shipping on these orders and have to pass along more of the freight to customers. You can find out the shipping costs, if any, that will apply to your order once you enter your location information.
We would love to be able to offer free shipping options across the US but it's just not sustainable for us. We do have fairly aggressive volume discounts if you subscribe -- up to 15% off orders of 24+ items. We know this isn't the same as a lower shipping fee but does help offset it a bit. We also have a rewards program that adds up over time to further discounts. We really hope to adjust this in the near future as our footprint expands. Ground shipping states include: ME, NH, VE, MA, NY, RI, CT, NJ, DE, MD, DC, WV, VA, NC, SC, MI, IL, OH, IN, TN, GA, KY.
DELIVERY
Where do you deliver?
FireRoad delivers throughout the continental US. Please enter your zip code at the prompt to determine whether we ship to your particular area. Different minimum order and free shipping thresholds may apply depending on your location.
How do I know when my delivery is on its way?
You will receive an email with tracking information once your meals have shipped. Contact the shipper directly if you need to make any modifications to your delivery.
I received my order. Now what?
Our meals are shipped frozen. Upon receipt, please open immediately and place items in your freezer until you are ready to eat. .
Is your packaging recyclable?
Your FireRoad box, sleeve and kraft containers are recyclable. Recycle as you would other similar products. Our most common box liner is primarily composed of US grown, non-GMO cornstarch – a renewable resource. It is an ASTM D6400 and BPI certified closed-cell foam that is backyard compostable, biodegradable and water-soluble. Manufacturing this kind of renewable foam requires 70% less energy and produces 80% less greenhouse gases than petroleum-based foams.
Our soups, sauces, oats and smoothies are packaged in pouches. These more compact pouches help reduce our transportation footprint. Do not microwave the pouches. The pouches are made of mylar and are reusable. Check with your local jurisdiction for recycling options. Pouches can also be recycled through third party organizations such as terracycle.com. As we scale, we plan to transition to biodegradable pouches when feasible.
Information about dry ice
We ship our products with dry ice in order to keep items frozen. The dry ice is packed inside an insulated envelope on the top of your box. In most cases, the dry ice will have disappeared before arrival. However, in the event any ice remains, leave the envelope in the box and put the box outside or in an open area so that any remaining ice can dissipate naturally. Do not touch dry ice with bare hands. It is extremely cold and could cause severe burns. Do not consume dry ice; do not add liquid to it. Do not place it in a tightly closed container. Keep out of reach of children and pets.
OUR FOODS
Are your foods 100% plant-based?
Yes! All our foods are 100% plant-based. That means no animal meats, poultry, seafood, cheese, milk or other products derived from animals.
Are your ingredients 100% organic?
We use organic ingredients whenever possible and practical. That ends up being most of the time. Grains, greens, oats, and proteins, except our 'meat crumbles' and chickpea pastas, are nearly always organic. Fruits are mostly organic. Beyond that, we take care in partnering only with suppliers that share our commitment to quality ingredients. Over time, as we scale, we will continue to add more ingredients as organic. Shoot us an email at reach@myfireroad.com if you have any further questions.
Where do I find nutritional information?
Glad you asked!
You can find detailed nutritional information on each meal on the individual product page on the collections page. Just press the Details box under any meal of interest and a window will open. Open the Nutritional Data drop down and it should give you all you need.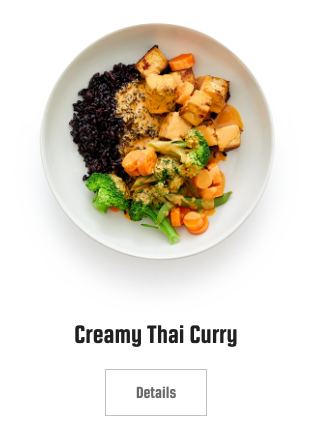 You can also 'hover' over any meals and certain macro information will appear.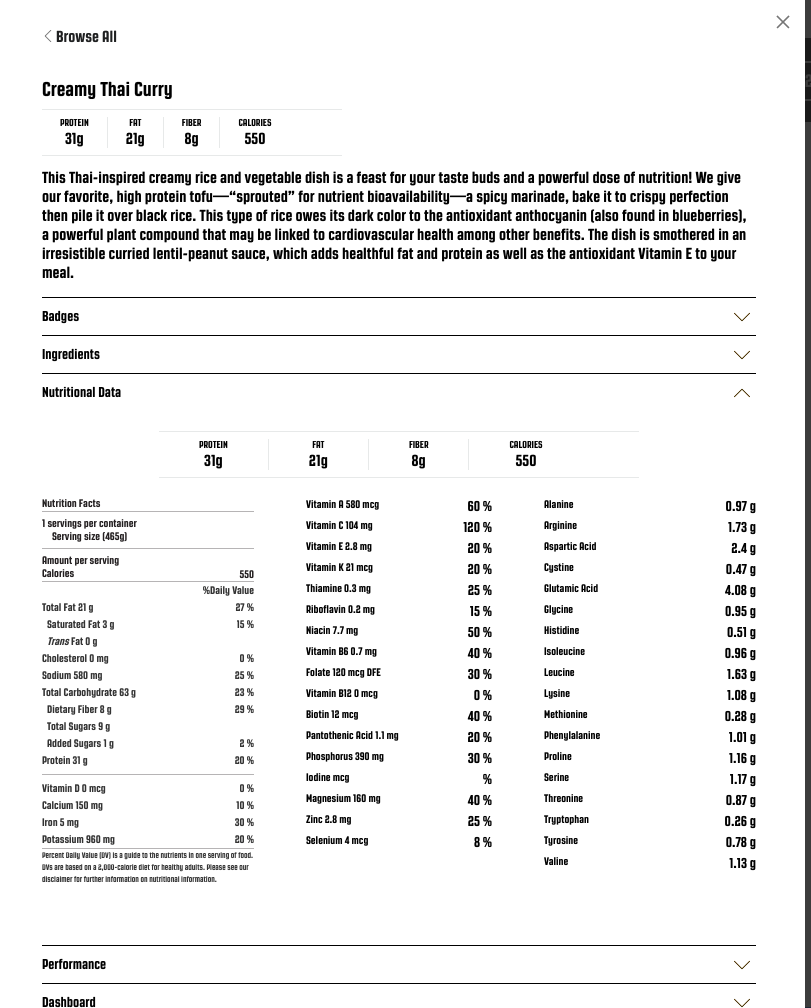 Do you have any GF meals?
Yes! Although we are not 'certified' as GF, many of our meals are made with gluten-free ingredients.
NOTE: Our pizzas contain wheat (and soy). We manufacture pizzas in a separate kitchen from our other meals and shrink wrap the pizzas before adding to our customer boxes. If wheat/gluten is a concern please avoid these meals. Please check individual meal descriptions for more information on allergens.
Why frozen?
Frozen is the best way for us to delivery fantastic tasting and nutritious meals that are ready to eat when you want them. Because we freeze meals immediately after preparation, we can lock in more flavor and nutrients—particularly when compared with delivered 'fresh' meals that deteriorate after days in transit followed by days of sitting in your refrigerator until you are ready to eat them.
How do I heat or prepare my foods?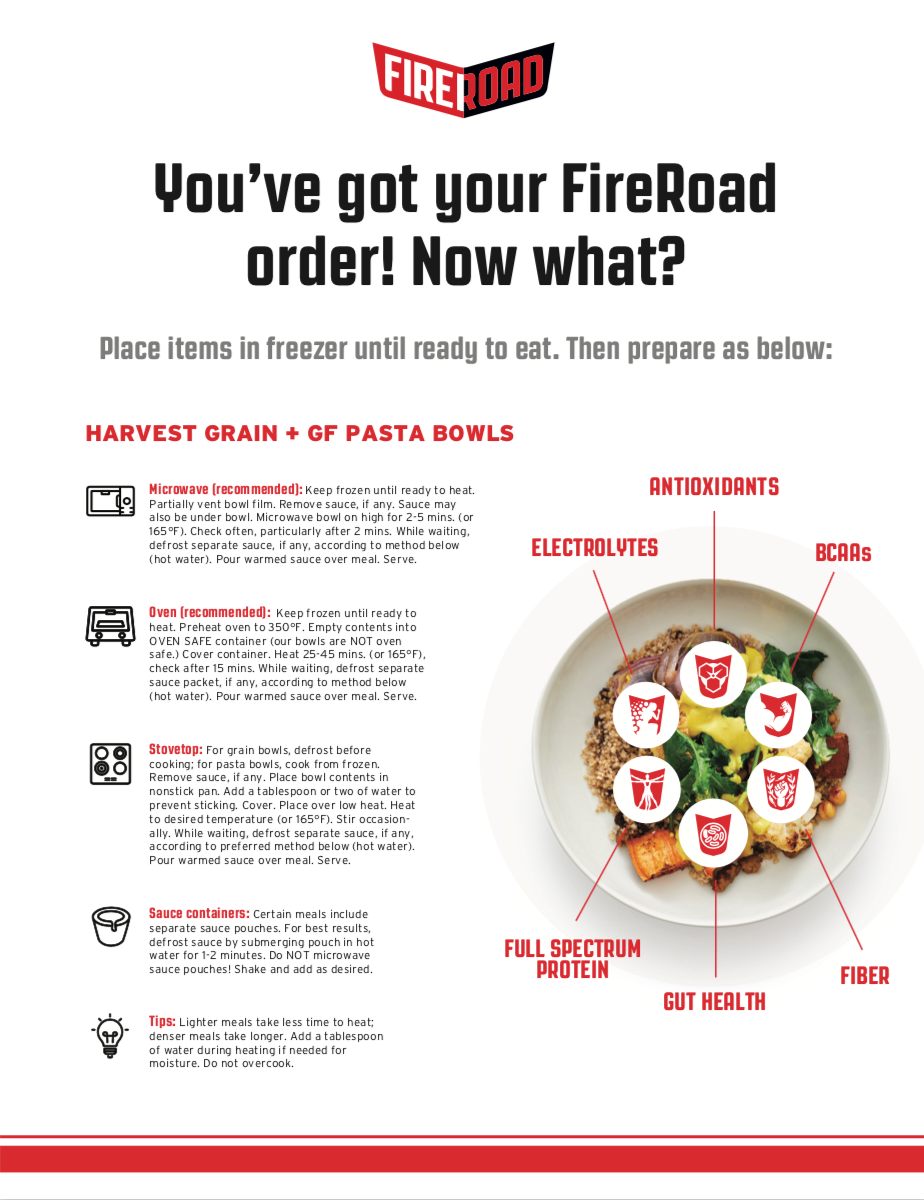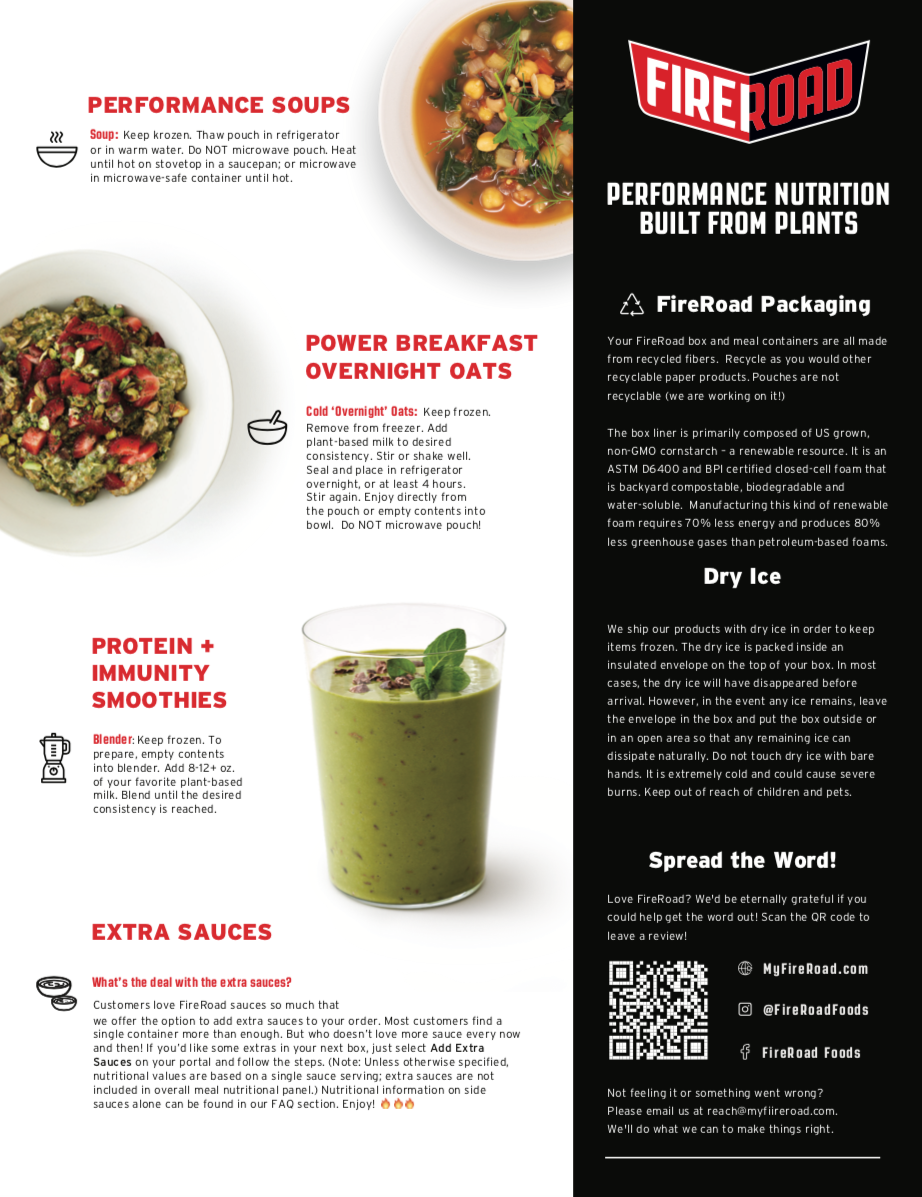 How do I screen for my allergies?
All meals have major FDA allergens clearly marked on their respective product pages, as well as on individual unit packaging. Because our foods are 100% plant-based, only certain FDA-mandated allergens apply: Tree Nuts, Peanuts, Wheat and Soybeans. Nearly all of our meals are wheat free.
NOTE: Our pizzas contain wheat (and soy). We manufacture pizzas in a separate kitchen from our other meals and shrink wrap the pizzas before adding to our customer boxes. If wheat/gluten is a concern please avoid these meals. Please check individual meal descriptions for more information on allergens.
How long can I keep FireRoad foods in my freezer?
Because our products are preservative-free, they should remain frozen until ready for use. If stored properly in a freezer, FireRoad meals should keep for at least a month. Shelf life may be longer but freshness will depend on whether meals remain frozen throughout or are inadvertently defrosted due to frequent opening and closing of the freezer.
What's the deal with the extra sauce packets?
Customers love FireRoad sauces so much that we offer extras. If you select a meal that has a 'side sauce' you will be able to add additional sauces at checkout or on your customer portal.
A note about nutrition and sauces: Unless otherwise specified, meal nutritional values INCLUDE a single sauce serving; extra sauces are not included in overall meal nutritional panel. So if you are adding sauces to a meal you can check out the nutritional value of the sauce and add from there. Likewise, if you want to dial back on a sauce, you can make a rough subtraction using the serving data below. Note all 'side sauces' come in single serve pouches, except Turmeric Tahini, which is marked as 2 servings.

Pro-tips about your meals.
Welcome to FireRoad!
We want to share a few 'pro-tips' to help you get the most from your order.
Meals are shipped frozen. Please unpack and place in freezer until you are ready to eat.
All meals have short tabs with instructions for preparation. Each meal also has detailed instructions online; use the QR tab to locate the product or find the meal on the website collections page and press Details.
Soups: For best results, thaw pouch overnight in refrigerator then heat in saucepan on stovetop. Do not microwave pouches.
Oats and smoothies: These meals are 'just add mylk' products ~ 8-12 oz. depending on desired consistency. Smoothies can be blended from frozen with your favorite mylk; oats should be 'soaked' for at least 4 hours in a separate container in the refrigerator. Or, if you are in a hurry, oats can also be enjoyed as muesli! Super pro-tip: The oat blends also make great smoothies!
Energy bites: We recommend letting these thaw a bit before eating for best experience.
We hope you enjoy the meals. Any questions? Shoot us an email at reach@myfireroad.com and we are happy to help.